We Solve Your Problems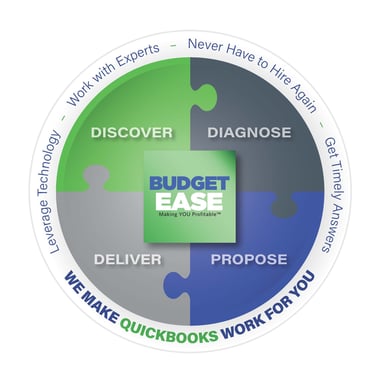 Is your current bookkeeper chronically late in keeping your QuickBooks up to date?
Put your financial review on auto pilot. Get Timely Answers to Your Questions, closed books according to a set schedule and a monthly meeting to review your financial information for opportunities for growth.
Need better processes but don't have the time or skill to research and implement them.
BudgetEase stays informed, tests, and then recommends new apps best suited for you, so that you can Leverage Technology to save you time and get more impactful financial information.
Tired of training or don't know how?
Use the BudgetEase Team of QuickBooks Online Bookkeeping Experts, who constantly train, so you no longer have to.
Sick of turnover or periodic lack of coverage?
With two BudgetEase bookkeeping experts assigned to your account your work is always done according to your schedule. If you bookkeeper leaves, BudgetEase makes sure you are covered. You never have to hire again!