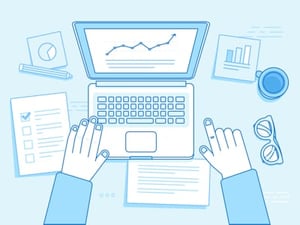 There are several ways to ensure your business's financial data is recorded accurately and available for reporting when you need it. You can hire a full- or part-time employee to be located in your office, you can contract a bookkeeping firm to send a staff person to your office once a week, or you can hire a virtual bookkeeper.
While the latter option is becoming increasingly common with the popularity of QuickBooks Online and other cloud-based software, there are a few things to consider when evaluating virtual bookkeeping services to ensure the engagement is successful. Checking the qualifications of the specific accountant that will be assigned to your account is just as important as making sure the firm itself is reputable.
Technical Expertise
Having someone experienced – even certified – in the accounting software that your business uses will ensure a smooth start and that any existing problems can be more easily rectified. If your business uses an industry specific CRM or ERP system, ask if anyone at the virtual firm has experience with it. Other good questions to ask might include:
Which payroll processing companies does the accountant have experience with?
Which types of industries does the accountant have experience working with?
What technology or apps does the accountant like best for efficiency and organization?
Ease of Communication
When working remotely, communication becomes even more important. Make sure the virtual team you want to hire communicates in a way you are comfortable with. Good questions to ask might include:
Do you prefer to have video calls via Skype, FaceTime or GoToMeeting?
Do you prefer to share documents via Google Drive or DropBox?
How many hours or days will it take to get a response to your requests?
How will the bookkeeper let you know when there is a problem or if more information is needed?
Bookkeeper's Qualifications
Even though you're hiring a firm, don't throw out the interview questions you would use if hiring a full-time employee. To get to know the specific accountant(s) or other staff person that will be assigned to your account, some good questions to ask might include:
What efficiencies have you established with other clients? What was the cost savings?
What makes a difficult client and what makes a great client?
How do you use journal entries?
What do you think are the most important parts of the financial information to you?
Our goal is to _______. What financial information would you provide to support our goal?
Are references available from other clients?
Engagement Letter
Finally, for a good working relationship, it is beneficial for both sides to have a written agreement of responsibilities. A good engagement letter includes the following:
Responsibilities of both parties
What deliverables are requested and their due dates
How frequently the accounting record will be updated
Specific mention of services not included such as audit services or tests for fraud
For more information on how to evaluate your virtual bookkeeper, give us a call.