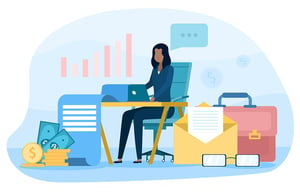 Your business has a focus and chances are it is not bookkeeping. You can try to manage your accounting needs in-house, assign some tasks to an office manager and take others on yourself, but think about a day where you didn't have to do any accounting work. Your office manager could focus on customer service and you could focus on running and growing your business. In addition to making better use of your time, scalability, cost and expertise are other reasons why outsourcing your accounting operations makes good business sense.
Get Only the Time You Need
If your business has low transaction volume, a full-time staff person might not be necessary. The full-time staff accountant might be unhappy finding themselves doing non-accounting related work. With outsourced accounting, you have just the right amount of time devoted to your business' needs. And when your business grows or has seasonal needs, no changes are required; your outsourced bookkeeping service will adjust easily to your current needs.
Get the Price You Need
When you run a small business, cost is important, but you don't need to sacrifice quality. Quality might demand what appears to be too high a salary for a startup or small business. Outsourcing the accounting function of your company can help cut costs. Outsourced bookkeeping services will save you: employer payroll taxes, workers' compensation insurance, health benefits, paid vacation and other fringes. More importantly, you benefit from eliminating turnover and training of an in-house bookkeeper. Plus, you have an expert on your team.
Get the Skill You Need
Lower cost doesn't have to mean lower quality. While saving money, you can still have access to the high quality accounting professionals that your business needs. When you hire a bookkeeping firm, you get staff that are focused 100% on accounting, engaging in continuing education, staying up-to-date on the latest trends and have experience in helping other businesses just like yours.
Get the Team You Need
If you were to hire an employee to handle your accounting needs for your small business, you would probably just hire one person. But there are many roles you need: clerks, staff, a controller and a CFO all play an important role. By outsourcing, you can have access to all those professionals. The right bookkeeping firm can, as needed, assign different professionals to your account. So whether you need data entry, financial reporting, improved efficiency and internal controls, or budgeting and forecasting, the right person can be just a phone call away.