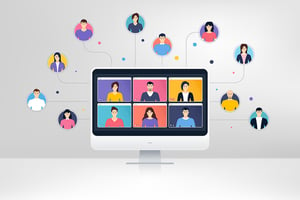 For most of us, driving to the office has been replaced by remote work environments. Fortunately, at BudgetEase we did a lot of remote work before the pandemic. For many small businesses, however, this has been a challenging adjustment period.
In our case, we refined our processes and found some great new applications such as:
Microsoft Teams – We conduct our team meetings along with client meetings via Teams. We have also found the Planner App within Teams very effective in organizing our tasks and main objectives.
QuickBooks Online – As Certified ProAdvisors, we have always used QuickBooks Online. It's a great program even if you're in the office.
Right Networks – This is a tool we use for clients who have QuickBooks desktop and other non-cloud-based software. Right Networks allows you and your team to work together in QuickBooks Desktop—online and anywhere.
Expensify – This app takes the pain out of expense reports by allowing users to scan and submit receipts with their smartphones. It syncs several accounting programs such as QuickBooks, Xero, and Salesforce to name a few.
BambooHR – This cloud-based software collects and organizes employee information. You can keep track of hiring, onboarding, compensation, and vacation planning.
Hubdoc – This is a great data collection and management software for your documents. It allows you to sync your bills, receipts, and invoices to your accounting software and/or Bill.com. You can also create rules to automate how your information is coded.
Bill.com – This is a cloud-based payments platform. It facilitates fast, secure ACH payments and automates approvals to cut time spent on accounts payable.
OneNote – We love OneNote as a place to keep notes on our clients and procedures. Data can be organized into separate notebooks, and individual sections within notebooks. It is compatible with a large range of digital formats, meaning it's possible to pin multimedia documents as well as simple text. It is a great update to the traditional file cabinet because of its search function.
Reach out to us at www.budgetease.biz to see how we can help you work remotely with ease.