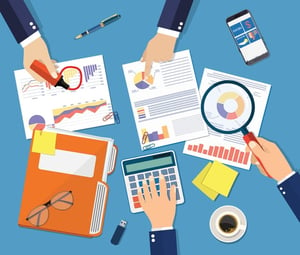 It's nearly the fourth quarter and year-end is just around the corner. A lot of small business owners wait too long to get their financials in order. Closing the books for the year doesn't have to be a race to the finish, it can be a jog. Below are a few things you can do now:
Capture your expenses: If you haven't recorded expenses as they occurred, the ideal way as it reduces errors, you can start bookkeeping catch-up now. Get those transactions recorded and properly categorized.
Check your cash balance: Most companies spend more in the last quarter than any other quarter. Have you squirreled away enough cash to cover year-end expenses and enough for taxes (probably 33% of net income)?
Reconcile your accounts: If you are behind with your bank reconciliations, now is the time to get going. Make sure your income and expenses are captured. Rushing at the end of the year is both stressful and often causes you to make errors that only hurt your bottom line. Look at uncleared transactions and deal with them now. Uncleared transactions could be mistakes, or if they are valid, they might need to be reissued.
Pay your vendor bills: Reducing your payables will increase your taxable deductions and leave you with cleaner accounts in January.
Check your employee records: Make sure your records are complete and up to date for W-2 employees and 1099 contractors.
Run reports: Now is a good time to run your internal financial reports and check for errors and omissions. Don't forget to look at that Balance Sheet to make sure it is correct.
Fixed Assets: Make sure your fixed assets are current.
Don't leave money in the drawer: Look at your unbilled time or unfinished projects. Set an internal deadline to get them completed and invoiced. The sooner you do this, the likelier you are to get money in before year-end.
Send reminders: your clients may need a gentle reminder to pay your bill. Now is a good time to do it.
Now that you have done all of this work, keep it up! It takes less time to be organized than disorganized. If you need assistance with the bookkeeping for your small business, give us a call at 216-333-1303.