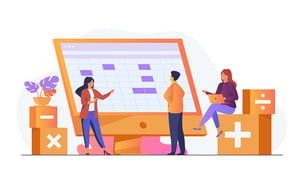 Imagine how nice it would be not to have to hire a bookkeeper ever again. In addition to saving you time, an outsourced bookkeeping team will also save you money. Below are a few of the benefits of having an expert perform your bookkeeping.
Accuracy – As a small business owner, you should be spending your time growing your business, not worrying about categorizing transactions properly, saving receipts, and guessing on best practices.
Cost – In addition to paying employee wages, consider the costs of recruiting, training, benefits, insurance, and payroll taxes. With an outsourced bookkeeping team instead of a sole practitioner, none of this is required.
Timely Financial Information – A professional bookkeeper will get you accurate financials on a routine basis, thereby allowing you to make informed decisions. With a team behind you, if something happens to the bookkeeper assigned to work, someone steps in seamlessly to get your financials done and in your hands.
Audit Support – An audit is always stressful. Knowing your books are up to date and carefully documented will relieve the headache associated with an unexpected audit.
Opportunities for Tax Savings – An outsourced bookkeeper is aware of tax savings opportunities that you may not be cognizant of.
Privacy – Having a trusted bookkeeper keeps your sensitive financial information confidential. There may be some things you don't want to share with your staff.
Technology – Professional bookkeeping teams are knowledgeable and experts at bookkeeping software and apps. They have experts in certain technologies that one person could not keep up with on their own. Don't waste your time learning technology that we already know.
Outsourcing Your Bookkeeping is Simple
Take it easy! Let us handle the day-to-day challenges of your bookkeeping. Read more about our services at www.budgetease.biz.