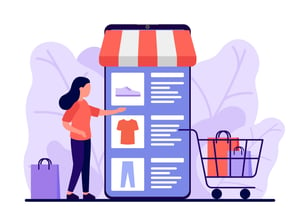 Operating an e-commerce business means dealing with a lot of moving parts and invariably bookkeeping problems. The problem we see most often is organizing information stored in a number of different places, then consolidating it in one place to create useful data used to make insightful business decisions.
For example, if you are selling custom backpacks on Amazon and via your website, you need to sort out what fees you are paying to Amazon, your shipping costs, fees associated with the payment platform you use, refunds and returns, and management of your inventory. This is done on a weekly (or daily) basis. After you have figured out of all the variables, you can generate financial statements.
We typically see e-commerce businesses attempting to track sales and inventory using Excel and then entering the data into their accounting software. That method works for a little while, but is labor intensive and often fraught with mistakes. As one client would describe, it's a "nightmare" acquiring data from numerous sources and consolidating it quickly and accurately.

End the Nightmare
In order to streamline the bookkeeping process for our clients, we did a lot of research and discovered a tool that seamlessly connects an e-commerce platform to your accounting software (we prefer QuickBooks Online or QBO). This tool is Webgility and we love it!

Streamlining Your Bookkeeping with BudgetEase & Webgility
There are a variety of reasons we recommend implementing Webgility. They include:

Easy tracking of online revenue and refunds with the ability to post sales revenue and refunds into QBO from various sales channels
Matching bank entries with sales
Ability to track marketplace fees by recording fees from Amazon, eBay, etc., as expenses in your accounting system
Identify and track payment and shipping costs by tracking and recording payment processor and shipping fees as expenses into your accounting system
Recording accurate sales tax for online orders into your accounting system
Syncing data between QBO and your e-commerce systems in real time
Generating reports and analytics with a daily snapshot of detailed financial insights on the performance of your sales channels, products, customers and more
Syncing inventory from all your sales channels with QBO
Ability to connect seamlessly to your accounting platform, preferably QBO
Easily connect and integrate with ShipStation and ShippingEasy to sync orders and tracking IDs, connecting to non-standard channels.
Webgility has a web-based product as well as a desktop version. Some integrations may be limited depending on whether the online product or the desktop product is chosen. Both versions present their own individual challenges but are manageable with our help.
Need help?
In addition to being QuickBooks ProAdvisors, we are certified Webgility integrators. Book a free consultationon our website to see how we can streamline the bookkeeping for your e-commerce business.