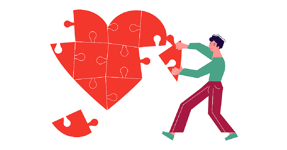 We aren't talking about peanut butter and chocolate (although that is good); we are talking about a part-time bookkeeper and a part-time CFO. That combination lets you do what you do best – create new products and services for your small business.
Three Parts
You can look at the management of your business in three parts, they are:
Transactional – This is the daily grind. All of the incoming and outgoing items occurring each day. Transactions can be as small as a return or as large as acquiring a new space.
Strategic – This is the magic the fractional CFO delivers. Most small businesses cannot afford the expertise of a CFO. Fortunately, a consulting CFO will add value and fine tune your business by:
Providing tailored internal processes
Reviewing and discussing weekly metrics and Key Performance Indicators (KPIs)
Developing growth and revenue strategies (short-, mid-, and long-term)
Monitoring performance and suggesting changes
Assisting with succession planning
Tactical – This is the marriage of the transactional and strategic work and where the expert bookkeeping comes in. The part-time bookkeeper knows the vision and processes put in place by the CFO and models their work based on it. The bookkeeper will:
Keep the engine running smoothly – no more worrying if accounts are reconciled or if vendor bills are paid
Actively monitor accounts receivable
Work with your outside accountant for month-end, year-end, and audit support
Generate accurate and timely financial reports
Protect your data by backing up the accounting system. If you are using desktop software, they will back up files daily to ensure nothing is lost in a system failure. We like cloud-based software such as QuickBooks since it's a constant backup -- but that's a topic for another blog.
An Opportunity to Re-Focus
A small business owner who spends their time managing relationships and refining product offerings is one who will see growth in their business. Leave the daily stuff to the experts.
Need help? Contact Forest Bookman at FocusCFO if you are interested in hiring a part-time or fractional CFO. Contact us at www.budgetease.biz for all of your bookkeeping needs.