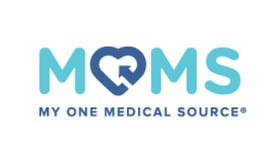 My One Medical Source® (MOMS) is the go-to resource for all of your lab testing-related needs. They are shifting the existing paradigm of specialized testing for those who need it and those who supply it to a new model that empowers both parties and makes healthcare more accessible.
Tell Me More About Your Business.
Ever need to have a lab test filled for your doctor but couldn't get to the lab your doctor uses because the location was far away or the hours the lab was open weren't convenient? You are not alone. Thirty percent of all lab prescription requests in the U.S. are never filled. Our client, My One Medical Source (MOMS) is a software business that helps labs connect through medical access points. From there, phlebotomists can collect the required samples for the testing needs and develop lab results. MOMS is revolutionizing access to basic and specialty medical testing!
What is your biggest challenge?
Brad Seybert, the Founder, and President of MOMS, has a background in developing innovative biomedical technologies and bringing them to market. His biggest challenge currently is educating the users of this new technology across the country on how to use the software easily in different medical settings, such as Urgent Care centers, pharmacies, and private test sites.
What Lead you to BudgetEase?
I was looking for an experienced team who can help me grow my business. BudgetEase's work with early-stage companies was a plus. An equity management firm recommended BudgetEase.
Why Do You Find Having Someone Else Do Your Bookkeeping Helpful?
Because it saves me time and keeps me organized while I work on the many other challenges of getting my product to market. I am happy BudgetEase is taking care of the financial tasks of MOMS while the business is growing.