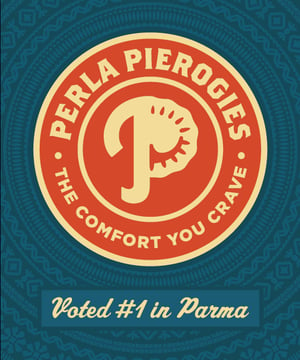 This month's spotlight interview will have you drooling for award-winning pierogies! Perla Pierogies, a client of ours, hand-crafts quality pierogies that are made with the finest ingredients. With vegan options, anyone could indulge in this comfort food!
Tell us more about your business:
A pierogi is a stuffed dumpling of Eastern European origin that is traditionally filled with potatoes and cheese. Perla Pierogies is committed to keeping the traditional recipes that were passed down for generations without compromising quality and taste.
At Perla Pierogies, the secret ingredient is the process. Being hand-crafted, we can guarantee quality and taste. Now, we offer sweet and savory pierogies to satisfy anyone's cravings! You can find us at our store in Parma or at local retailers like Whole Foods and Miles Farmer's Market.
What is your biggest challenge?
The biggest challenge we've faced at Perla Pierogies has been maintaining the books. We needed accounts payable, accounts receivable, and register maintenance.
What led you to BudgetEase?
We found out about BudgetEase through an online web search. We were pleased to hear that one of their team members could come to our office to help us sort some financials out!
Why do you find having someone else do your bookkeeping helpful?
Having BudgetEase do the bookkeeping is essential, so we have more time to craft hand-made pierogies!
To learn more about Perla Pierogies (or taste the goodness for yourself!), please visit their website at: https://www.perlapierogies.com/.
We are always excited to meet new clients. If you're looking for a bookkeeping service or help with QuickBooks, please give us a call! We make QuickBooks work for you!