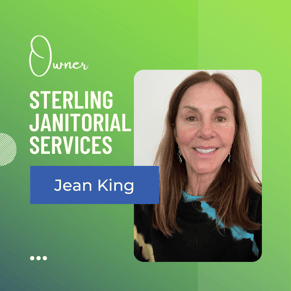 We are happy to introduce Jean King, owner of Sterling Janitorial Services. Sterling Janitorial Services is a small, family-owned, commercial cleaning company that focuses mainly on cleaning office buildings and parking lots. We are proud to have Jean and Sterling Janitorial as our clients since 2017!
Tell Me More About Your Business.
Sterling Janitorial has been in business for 23 years now, providing janitorial services performed by a dedicated, hard-working professional team. Alexandra has been our team supervisor and a dear friend for the last 21 years. We clean at night, Monday through Friday, and I think we do a great job!
What is your biggest challenge?
I am an expert when it comes to managing my team and providing a detailed, professional cleaning service to my clients. My biggest challenge, however, is working with the computer! I would much rather be out in the field assuring my client's buildings are neat, clean, and in tip-top shape. I am not technologically inclined and find technology very frustrating. Not knowing how to do something is what keeps me up at night!
What Lead you to BudgetEase?
When Sterling Janitorial transitioned to a smaller office, I no longer needed a 40-hour-a-week secretary/bookkeeper. My cousin recommended BudgetEase. We went from paying $4,000.00 a month to under $1,000.00 a month! That's what I call a cost-effective solution!
Why Do You Find Having Someone Else Do Your Bookkeeping Helpful?
I find having BudgetEase do my bookkeeping takes a lot of stress off me and allows me more time to do what I am good at. I make sure the information gets to BudgetEase and they take care of the rest. My QuickBooks are accurate, always up to date and I never have to worry about my monthly sales tax or year-end information for company taxes. BudgetEase is very accurate, professional, and fun. I feel secure knowing that BudgetEase takes care of my bookkeeping, so I don't have to.
To inquire about services for your business, contact Sterling Janitorial Services via email at, Sterlingjanitorial@aol.com