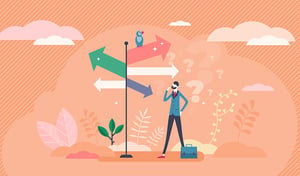 It can be confusing for small business owners to determine what professional service is needed. Typically, more than one service is necessary. Below are the differences in professional services available for you to determine which ones are best for your business.
Bookkeeper
Your bookkeeper will do the landslide of the monthly/weekly work that is necessary to keep your business running. For example, they will:
• Ensure your expenses and income are categorized and added to your books correctly
• Manage your merchant service accounts
• Reconcile your bank accounts and loans
• Enter and facilitate payment of your bills
• Create and send invoices to your clients
• Record your depreciation
• Manage and maintain prepaid expense schedules
• Record payroll
• Prepare and pay Sales Tax and Commercial Activity Tax
Controller
An outsourced controller can add value in many ways, including:
• Preparation and maintenance of budgets
• Provide analysis in Key Performance Indicators and metrics
• Prepare and maintain Cash Forecast
• Create accounting procedures and processes in accordance with industry best practices
• Oversee accounts payable and receivable
• Oversee accruals
• Compile financial statements and key reports
Accountant
An accountant will compile, analyze, and ensure financial documents are lawful and compliant. In general, accountants:
• Prepare and file Federal, State, and Local Taxes
• Perform depreciation calculations
• Audit financial information
Fractional CFO
The person fulfilling this role will assist with:
• Finding financing alternatives
• Developing strategic decisions (think adding a product line, employee, land and building purchases)
• Preparing a 13-week cash forecast
What Does BudgetEase Do?

BudgetEase specializes in:

•

QuickBooks
•

Virtual Bookkeeping
•

Controller Services
•

Catch-up bookkeeping


•

Training
•

Developing your Tech Stack
•

Business Process Advisory




We work with:

• Not for Profit work
•

Service industry bookkeeping
•

eCommerce bookkeeping


To help you get started, take a look at our Catch Up Bookkeeping Service Overview and see how we can help get you on track. We make QuickBooks work for you!