OOPS! 2017 is over and you forgot to do your bookkeeping. You are not returning your accountant's phone calls because you don't have the information that he needs to you're your tax return for 2017. What should you do? You are not the only one. Every day we get a call from an optometrist or property manager who never kept any records last year. Here is what we do when faced with this dilemma.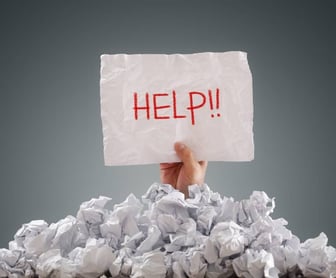 Determine the most efficient process to collect your corporate information for your accountant. Every company is different. Here are two different situations we encountered and what we did:
Catch-up an Existing QuickBooks File:
Enter Deposits and Checks (or ideally download all bank transactions) and batch/post transactions on a monthly basis

Pull all your bank and credit card statements and place them in order by date

Perform monthly Bank Reconciliations and print out Summary Reconciliation Reports

Record Journal Entries for Payroll by pay period or one entry for the year

Review A/R and A/P at year end for accuracy. Make adjustments if necessary

Review Undeposited Funds (Make Deposit – should be empty) at year end and make adjustment if needed

Print out Annual Reports: Comparative Profit and Loss, Comparative Balance Sheet. Are all accounts in order? If not, do some research and make adjustments

To get a good feel for how the year went print the following reports: Sales by Customer Summary, Sales by Product/Item, Vendor Summary, A/R aging, A/P aging

Upon completion, save a backup QuickBooks file
Catch-up Using Excel:
Pull electronic information for the bank and credit cards

Organize all the transactions in an excel spreadsheet

Add a column for categories (Rent, Meals and Entertainment, Filing Fees, Travel Expenses, Advertising & Marketing, etc.)

Sort by Payee so that when you categorize one transaction you can pull down and categorize all transactions for that payee

Continue until all transactions are categorized

Use a Pivot Table to group the transactions into a summary of all your transactions for the year
Extra Tip for Either Catch-up:
Does your credit card provider offer an Annual Summary Statement? If it does, enter the summary amounts, not the detail. This alone will save you a hour or two of you time.
Make sure you add all the expenses you paid for with a personal checking or credit card account. The offset would be your Owner's Draw or Contribution Account.
OR call BudgetEase. We would be happy to catch your bookkeeping up so you don't have to worry about it anymore!