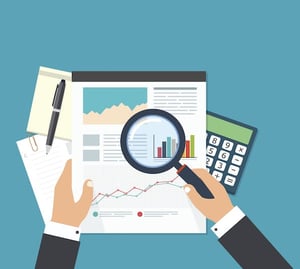 Many small business owners start out doing their own bookkeeping. As business grows, there is often little time to manage the books and the search for an internal bookkeeper begins. While QuickBooks is user-friendly, it's important to hire a candidate that knows their way around the software.
Below are a few things to consider when evaluating candidates.
QuickBooks Basics
Your bookkeeper should know how to:
Add vendors and customers
Receive payments
Enter bills
Create invoices
Reconcile bank and credit card statements
Create and modify reports
Manage accounts payable and receivable
There are a lot of people out there with those basic skills. So how do you decide which one of those people is your perfect person?
Ask the candidate to complete a few common QuickBooks tasks, such as editing a template, memorizing a transaction, filtering a report, adding an account to the chart of accounts, record a write-off, find a check written to a specific vendor, and assess a finance charge.
General Accounting Knowledge
In addition to ascertaining the candidate's QuickBooks knowledge, you should also determine his or her knowledge of accounting. Ask a few basic accounting questions, such as the following:
What do you look for when viewing the balance sheet and income statement?
If the candidate knows to look for patterns on the income statement and identify errors (incorrect balance in revenue or expenses, payroll clearing balance, or negative amounts on the balance sheet), they probably have a good understanding of general accounting principles.
What would you do to locate discrepancies while reconciling the bank statement?
Appropriate answers are to start with common sources of discrepancies such as interest earnings, returned checks, incorrect beginning or ending balance, and bank fees. If they provide those answers, they have probably done their fair share of bank reconciliations.
How do you check your work?
Even the best bookkeeper makes mistakes, the good ones catch and correct them. Ask them if, and how, they check for errors. I always double-check my work is not the answer. If they have a process that includes going back to the P&L to see the result of their work or if they run a report that lists all the unbilled charges to make sure they have all been billed, you have a keeper. Another good response is I always check for uncleared items BEFORE I hit Reconcile.
How have you used Items/Products and Services in a way to provide better reporting? What Items did you set up and what were the results?
Items are an important component of QuickBooks. If your candidate does not understand Items, and many users do not, make sure you provide adequate training and oversight at least monthly to make sure that your new hire is maintaining your QuickBooks correctly. BudgetEase provides both services.
Other Important Steps
Make sure they fit your culture and values – If you value constant learning then ask what books you have read lately. If you are on the lookout for cost-effective solutions, ask them what system they had implemented that they are proud of and saved the company money. How did it save the company money? You get the idea.
Always get a background check and credit check which are both allowed in Ohio for candidates in jobs with access to money. We have found PreCheck provides a quick and easy way to screen our candidates.
Check three references (two work managers). Ask would you hire the candidate again today? What do I need to do to help this candidate perform at their best?
If the candidate navigates QuickBooks effortlessly, responds to your accounting questions adequately, passes the review, and comes across as professional, then you may have found the right person.
Hiring competent people can be time-consuming. Often new hires just don't work out. If you find this process to be difficult or if you are experiencing high turnover, hiring a bookkeeping service like BudgetEase would be a cost-effective solution. If you need assistance during your hiring process or want QuickBooks training, contact us at 216-333-1303.