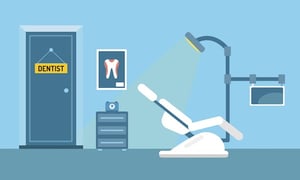 Accounts receivable is difficult in most industries, particularly for small businesses. Dental practices are not exempt from the struggle of collecting payments. The challenge for many dentists is that payments are received in a multitude of ways, most commonly via insurance and direct customer payments.
The conundrum for many dental practices is whether to turn away a patient because insurance doesn't cover the procedure or arrange a finance plan. Internal financing comes with risk; however, having a low case acceptance rate also adversely affects the bottom line. If you choose to allow patients to make payments, there are a few steps you need to take to keep your accounts receivable from growing out of control.
Inform Your Patient
Make sure your patient understands what is covered by insurance and what they are responsible for paying before performing the procedure. Have each patient sign a treatment plan outlining what they are required to pay and when.
Get a Bookkeeper
Having an outside bookkeeper to monitor your accounts receivable and other financial matters keeps you with the patient and out of collection matters.
Automatic Debit
Encouraging your patients to enroll in automatic debit significantly reduces the time your financial coordinator or bookkeeper will spend making collection calls. Auto debit also eliminates transaction fees for credit card transactions.
Credit Card Easy Pay
Arrange to have a sequence of payments made via credit card before the patient has the procedure. While you will incur credit card fees, you know you are receiving income.
Outside Financing
Many companies provide financing for major dental work. The advantage is you will receive payment as quickly as two business days. The disadvantage is that these arrangements normally have high fees associated with them, sometimes as much as 7%.
Discounts
Consider offering a cash discount when services are paid in full by cash or check at the time of service. I would advise against a discount for credit card payments as you are generally paying a 2-3% fee to accept credit cards.
Handling Large Cases
Require a 50% down payment for the fabrication of a crown, bridge, implant, or any other major procedure. At the very least, lab expenses are covered even if your time is not should the patient fail to pay.
Review Frequently
Review your accounts receivable and financials weekly so as not to let accounts fall behind. We can help you manage your accounts receivable. Contact us today to learn more.