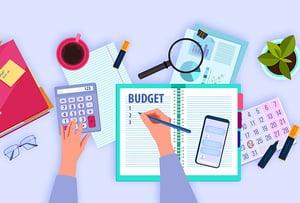 A budget is evidence of your mission and values in numbers and tells you if your dreams are viable. A budget is an important feature of your initial business plan and helps lay the foundation of your future business operations.
If you're not sure why a budget is so crucial hopefully, we can shed a little some light on the subject for you.
Viability
Instead of going full steam ahead with an idea for a great new service, mapping out a budget in advance helps you determine if the idea is possible. Plus a budget allows you to change scenarios to make better decisions. This year we knew BudgetEase was challenged with lower sales. We knew we needed to reduce expenses in order to maintain existing staffing. The Budget helped us determine the maximum amount we could to spend on expenses.
Why Is a Budget So Important?
A small business budget is a plan for the future. It keeps you accountable for spending and ensures you're keeping an eye on the future of your business. When you set out your business goals, a budget helps to plan expenses for them, including determining the highest priority spending, and where limits should be placed.
Relevance
A budget needs to be relevant to the business it serves, and the fact that budgets can be versatile and flexible helps to make business budgets so important. For a company that offers consistent products year-round, planning is more relaxed, compared to a company that generates most of their annual revenue via Summer or Winter sales. Depending on the type of small business you operate, your budgeting process will be different.
Look at Your Results
This is arguably one of the most important processes of budgeting. A budget is meant to be used as a tool to see how well your efforts are working, not a document you "set and forget."
Make it a habit to review your budget at least quarterly. Generating a Budget to Actual report is a great way to see if you are on track with your goals. You can see if your expenses are what you anticipated and if you met your sales goals. Additionally, you can identify trends that you may want to capitalize on or modify services per market conditions.
At the end of each financial year, your budget serves to prove what went well, and what could be done better. It's why keeping proper track of both the incoming and outgoing funds is important. You cannot afford to miss out on creating a system like this, to ensure you're moving into the next year with the right resources at hand.
It's Not Too Late
If you don't have a budget, it's not too late to put one together. If you do have one, thank yourself for having the forethought for putting one together as part of your original business plan.
Remember, a budget is a great tool but only if you use it. We would love to help build a budget or show you how to make the most of the one you have.