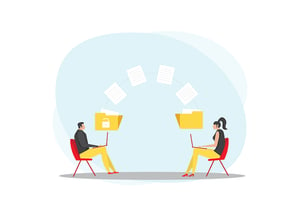 Recently I converted a client from Sage Accounting software to QuickBooks Online. It was a learning experience that I thought would be beneficial to share. There are important steps to take when converting a file to QuickBooks Online. I'll outline them here.
Steps to Converting a File to QuickBooks Online
Pre-Conversion
Bookkeeping - Make sure your bookkeeping is up to date. All accounts should be reconciled and uncleared items addressed. This is a critical piece.
Vendors & Customers - Look through your vendors and customers, ensure there are no duplicates, and all information is present.
Select a cutoff date - Ideally you will want a clean break at the end of the year, quarter, or month.
Reports - Generate reports from the "source" software to an Excel or .csv file. Recommended reports are a balance sheet, profit and loss, chart of accounts, vendor list, customer list, open invoices, inventory detail (including amounts, products, prices), item list, outstanding accounts payable, payroll reports, and a trial balance.
Create a QuickBooks Desktop File
This is not a typo; it is much easier to convert a QuickBooks Desktop ("QBD") file to an online file than it is to begin with QuickBooks Online ("QBO"). To do this:
Start a new QuickBooks Desktop file (we use the most recent desktop version). You will want to enter as much data as you can.
Import Excel or .csv files into the QuickBooks Desktop file. These include your customer list, vendors, inventory, chart of accounts, etc. QuickBooks offers templates for many of the file uploads you need.
Make any changes/additions to your data.
Check for accuracy.
Move Your File
Now that you have entered and checked your data you can export your company file to QuickBooks Online. You will need to:
Sign in as an admin to the company file you need to import.
Go to the Company menu, then select Export Company File to QuickBooks Online.
Select Start your export.
Sign in as an admin to your QuickBooks Online company.
If you track inventory in QuickBooks Desktop:
Note: Only QuickBooks Online Plus and Advanced can track inventory. Both plans use the FIFO method.
Select the Choose online company▼ dropdown and choose the QuickBooks Online company you want to be replaced by your company file.
Select Continue.
Enter "Agree" in the text field, then select Replace.
Select Yes, go ahead and replace the data, then select Replace.
The Tricky Stuff
It seems straight forward to move a file to QuickBooks Online; however, even the best prepared run into snags. For example, I recently moved a file and found that despite uploading inventory using the template provided by QuickBooks, the inventory items duplicated and were even tripled in some cases.
In this case the client had already begun adding new data and connected the bank so starting over wasn't an option. Given that there were hundreds of inventory items it was a time-consuming process to correct.
The Takeaway
I learned to never add new data to a new QBO file unless I have check for conversion issues. In the inventory example, I could have exported the desktop file again to see if the issue remedied itself. Instead, I was stuck manually deleting inventory.
This example is one of several things that can go wrong during a conversion. We have encountered and solved numerous issues related to converting to QuickBooks Online. If you are considering moving your file or have questions regarding a recent conversation, reach out to us at www.budgetease.biz.