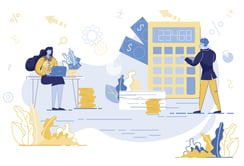 We work with many nonprofits and understand the hurdles they face trying to grow their organization while effectively managing finances, including financial planning and reporting. Here are just two examples of how BudgetEase has helped nonprofits through its bookkeeping expertise.
The out of control profit & loss: 12 pages and counting!
The controller of one not-for-profit organization knew there was something wrong, but didn't know how to fix it. He had to report on programs, satellite offices and fundraising efforts in the traditional profit and loss format -- first listing all income accounts, then listing all expense accounts, causing lots of account duplications. Twelve pages had to be scanned to determine the net results for each reporting category.
The classes feature solved the problem. Classes allowed him to organize Statement of Activity by program, eliminating the need for duplicate accounts. The Statement of Activity was reduced to 2½ pages! The class structure we created even supported producing the year-end financial reports by program, administration and fundraising. When we showed the finance manager the additional customization options, we saw the wheels spinning as a big smile spread across his face.
Sometimes income isn't really income – huh?
Another financial manager struggled with explaining to his board members why sometimes a large grant award is reflected as income even though it can't be spent until sometime in the future. One year would show a large surplus and the next a large shortfall.
To solve that problem, we reorganized the chart of accounts so that restricted income is first recorded in the 'Other Income and Expenses' portion of the P&L. As the income is released from restrictions, it gets reclassified into the section where operating income appears. This structure more closely mirrors operations and budgets and has reduced confusion about restricted income.
QuickBooks can help you and we can help you with QuickBooks
These are just two ways to use QuickBooks as a tool to get the kind of reporting a not-for-profit organization needs. Each organization is unique. When we take on projects like these, we start with You. We learn who you are, how you operate and your reporting requirements. We then structure QuickBooks to provide the information you need.
Read about other ways to make QuickBooks work better for you by avoiding these 5 mistakes.