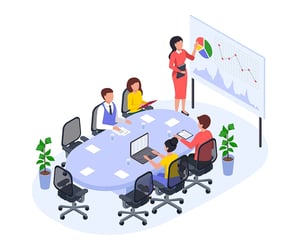 It's that time of year, rounding out the fall season and sliding into the last few months of the year. We get lost in the day to day work and those unexpected events. Take a moment to take stock in what you and your business have right now and see where you are compared to where you started the year.
You can ground yourself in the now, by acknowledging and appreciating the past:
What are three goals or best moments you achieved in your business?
What big milestones did you celebrate with employees, clients or business partners?
If you have had a setback, what lessons did you learn?
Have you had any new client or vendor relationships begin since January?
Who has you helped along the way?
What is one thing you learned today that you didn't know yesterday?
Each day brings its own lesson. Going into the next inning of unknowns, you surely have more plans, ideas, and goals. We hope that you can continue to achieve them all while dodging the twists and turns ahead with those clients, partners, and employees that make it all worth it!
At BudgetEase, we are grateful for our team, clients, vendors and mistakes. Our best moments are when we can provide clients with information before they make a mistake. Would you like to schedule an annual review with us? If you haven't had one, let's get it on the schedule.
Here's to your own version of a hitting a home run, each day! (And if you're behind, there is time to score a win in this final quarter of the year.)
If you need assistance with the bookkeeping for your business, give us a call at 216-333-1303 or reach out to us by clicking below.