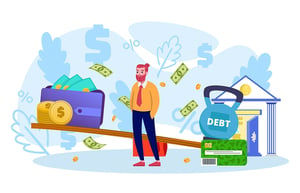 The second draw of PPP funds is a life raft for many small businesses. There are a lot of great changes to the eligibility rules and uses of PPP-2 funds. Unfortunately, there are a few changes that many deem unfair.
To qualify for a PPP-2 loan you must:
Have previously received a first draw PPP loan and will (or did) use the full amount only for authorized uses.
Have no more than 300 employees
Demonstrate at least a 25% reduction in gross receipts between comparable quarters in 2019 and 2020.
Sounds reasonable, right? Well sort of.
Let's look at a few scenarios.
Scenario 1: Small Business A
This business managed to get through 2020 and experienced lost receipts each quarter of 20%. They remain in business, in part because they received a PPP first draw loan, but it's a struggle.
Since there was not a loss of at least 25% in ONE quarter, Small Business A does not qualify for a second draw PPP loan. Overall, this business had an 20% loss in gross receipts in 2020 compared to 2019.
Scenario 2: Small Business B
This business had a terrible second quarter in 2020. Gross receipts were down 45% compared to the second quarter of 2019.
Quarters three and four were brighter for Small Business B. They were able to pivot and bring in gross receipts 15% over that of third quarter 2019. Fourth quarter, while not as great, still provided a 10% increase over fourth quarter 2019.
Small Business B is eligible for the second draw PPP loan because they had a loss in excess of 25% in the second quarter of 2020. Small Business B was down 20% overall for 2020, the same as Small Business A.
Scenario 3: Small Business C
This business is a restaurant who experienced a crushing loss of sales. During portions of 2020, they were forced to suspend operations. Fortunately, they received a first draw PPP loan, reopened, and focused on carry-out. Given the reduction in sales, this business was not able to bring back all employees they had pre-pandemic. As such, they were not able to spend the required 60% of PPP funds on payroll. For that reason, they are not eligible for a second draw PPP loan even though they had the biggest need.
Is the eligibility process unfair?
If you look at the scenarios presented, it's hard to say the PPP 2 approach is fair. The eligibility criteria doesn't take a holistic look at the reduction of gross receipts. In the scenarios provided, the only small business that is eligible for a second draw is the one who experienced the least loss.
Is your small business eligible for a PPP-2 loan?
We would love to help you determine your eligibility for a second draw PPP loan or assist you in applying. Reach out to us at www.budgetease.biz to see how we can help.