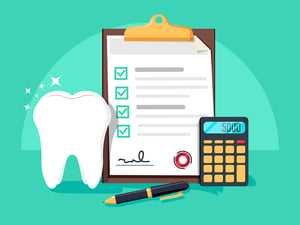 Dentists have limited control over when insurance companies issue payments, or the speed at which patients pay out-of-pocket amounts. Yet their loan payments for expensive equipment and salaries for their staff are constant. To that end, cash flow is a major priority. There are several things to consider when analyzing cash flow, they are:
Fixed Expenses – It is critical to understand what your monthly obligations are and how much money is necessary to cover them. You undoubtedly have rent, lease payments, payroll, loans, insurance, etc.
Technology – Dental equipment and software is expensive. Make sure you know what your monthly payment obligations are and plan accordingly.
Upgrades – Resist the urge to buy the latest equipment and technology unless doing so greatly improves your service and efficiency
Employees – Do you have the right employees or right number of employees? It may be tempting to keep your staff to a minimum, but you may be missing out on revenue. How long are patients waiting for cleaning appointments? It may make sense to hire another employee. Determine if an additional salary would create significantly more income.
Continuing Education – Make sure you track your expenses associated with maintaining professional accreditations. Don't wait until the last minute to complete your continuing education hours as it tends to cost more.
Reserves – Maintain enough cash in interest-bearing account to cover routine operating costs for 3 to 6 months.
Review – Make reviewing your cash flow a priority by doing it monthly, or at least quarterly, to see trends. It can be as simple as an Excel spreadsheet. Try an app with your QuickBooks like CashFlowTool to determine 6 month cash availability and allows you to test capital or staff outlays before you make them.
We have a lot of experience with cash flow and dental practices.
Let us help you - visit us at www.budgetease.biz.