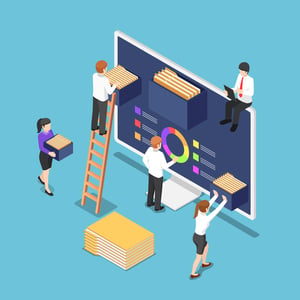 If you're like most small business owners, you have a long list of thing to get done to keep your business operating. Substantial effort is placed on increasing sales, product development, hiring the right people, and making sure customers are happy. Typically, bookkeeping is a secondary concern. Unfortunately, not keeping your books clean and concise is probably costing you money.
We see a variety of issues when we clean up a client's books, the most common mistakes are:
Not Applying Payments
Instead of relieving (receiving payment on) an invoice, a tendency to deposit money in the bank and move on is a popular one. This creates inflated accounts receivable and overstates sales figures.
Undeposited funds
If you have undeposited funds, particularly old ones, it's a sign that something has gone wrong with recording revenue on your books. Deposits may be recorded twice, thereby overstating your revenue.
Inconsistency
If you categorize expenses and income inconsistently, it is hard to see trends and understand where your money is going. Not only does it make it more difficult for you to see what is going on in your business, it is also difficult for potential investors or banks to gauge your business' health.
Unreconciled Accounts
Comparing your internal records with that of the bank helps to identify unusual transactions that may be caused by accounting errors or fraud. When you look at your books, you want them to reflect reality. If your cash balances don't add up you could be spending money you don't have.
Incorrect Payroll Liabilities
Negative balances on payroll liabilities on your balance sheet is an indication that your payroll is not being recorded directly. This leads to a variety of issues, including improper payroll tax and skewed financials.
Inaccurate Financial Statements
If some, or all, of the items discussed are present in your QuickBooks file, your financial statements are likely incorrect.
BudgetEase can help you catch up!
Visit us at www.budgetease.biz to see how we can help you clean up your books.