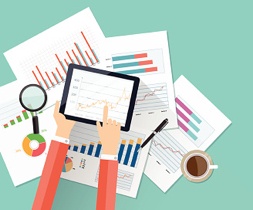 Our clients often ask us to help prepare their taxes in addition to the small business bookkeeping assistance we provide. Instead, we refer our clients to a CPA firm to provide tax preparation assistance. Why? Let's look at the primary purpose of a CPA and a bookkeeping firm.
Purpose of a CPA Firm
A Certified Public Accountant (CPA) provides guidance on Generally Accepted Accounting Principles and the tax effects of business transactions. CPAs help plan tax strategy at the federal, state and local levels and provide support through any audits with the IRS. In addition, CPAs provide formal or informal auditing services and are a second set of eyes to ensure all bookkeeping has been done properly. CPAs leverage the accounting records maintained by a bookkeeping firm to provide guidance on larger matters.
Purpose of a Bookkeeping Firm
What a bookkeeping services firm provides includes understanding the details of your business, efficiently organizing many transactions, understanding how cash flow affects operations, and what reports you need to make the smartest decisions. They are also experts at managing your QuickBooks or other financial software.
Benefits of Having Both a Bookkeeping and a CPA Firm
While there may be potential synergies, we find engaging separate firms to advise on your tax needs and small business bookkeeping needs provides a better outcome because:
Eliminates Conflicts of Interest: While both firms should have your best interest in mind, the key is to keep a separation of duties to avoid a conflict of interest. If the same firm handles bookkeeping and tax matters, there is less independence and there is risk that the benefits provided through an (in)formal audit are diminished.
Cost-Effective: Bookkeeping services from a CPA Firm tend to cost more than when provided by a bookkeeping firm. The hourly cost of your CPA's advisory services may not be the most valuable use of their time or your money. Consider outsourced bookkeeping on a monthly or weekly basis with a virtual bookkeeper that is more in line with your budget.
Higher Level Service: If you run a service business, you know customers do business with you for your expertise. Similarly, choose financial advisors who know their role. CPAs stay on top of changing laws and regulations and bookkeepers remain aware of efficiencies and best practices to save your business money and save you time. A firm that does both is a master of neither.
At BudgetEase, we believe that you are "better together" with a bookkeeper and a CPA firm. As small business bookkeepers, we love working with CPA firms to service our mutual clients. The CPA and bookkeeper relationship is an important part of your team to make YOU more profitable.
If you need another set of eyes on your books, BudgetEase is here to help! I am Kathy Dise with BudgetEase, and you can contact me for a free consultation at kathy@budgetease.biz