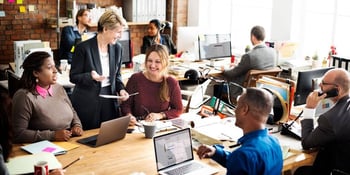 When hiring new employees, it is important to consider all the steps and pieces of your business that will be impacted by the human resource investment. Not only are you paying the hourly wage or salary, but also potentially:
Training costs
Insurance
Paid time off
Retirement and other benefits
Employee Costs & Federal Retirement Benefits
Let's not forget about the obligation of employee taxes like social security and Medicare, as well as Worker's Comp and payroll processing costs. While your bookkeeping costs will not be affected by hiring more employees, it's important to calculate the true amount you are investing in each new employee. Also, it is imperative to note that the tax rates can change regularly which can affect the employee's paycheck and your matching contributions. Check out our blog on calculating the true cost of an employee and use the Sample Paycheck to do the calculation.
Payroll Fees vs. Bookkeeping Services
Because of the challenges of correctly paying employees, we recommend that you not only use a bookkeeping service, but you leverage a quality payroll service. Payroll service fees will depend on the number of pay periods in each month, as well as the number of employees. Your monthly bookkeeping service costs are directly tied to the number of transactions that flow through your bank accounts, including credit cards.
Let's go over a couple of examples:
Example #1
Your ice cream shop has 100 sales per day. While each of these sales will generate an individual sales receipt, there are likely less than 10 transactions that reflect in your bank account. Because the cost is per transaction, the bookkeeping cost is relatively low in this scenario.
Example #2
Let's say you have a non-profit with four employees who travel quite a bit. As a result there are 150+ credit card transactions in a given month. All their time and expenses must be tracked to a specific project. You need monthly reports for the organization and detailed tracking for each project. In this case, even though there are not many employees, there are hundreds of banking transactions. This results in a much higher monthly bookkeeping cost than Example #1.
Connect All Your Advisors
To ensure proper reconciliation of the federal retirement benefits, your employees' true costs and processing fees, we recommend your payroll and bookkeeping service providers collaborate with your CPA. Connecting your advisors together provides a stronger alignment of your business and personal goals.
We hope you understand that hiring more employees does not impact your bookkeeping costs. I am Kathy Dise from BudgetEase here to make YOU more profitable. If you have any more questions you can submit them at kathy@budgetease.biz.