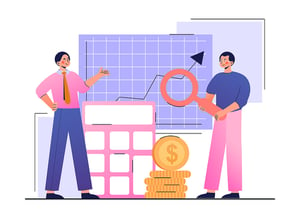 In short, yes. It is recommended that small businesses reconcile their accounts at least monthly, although some small businesses reconcile daily for cash flow reasons. This step-by-step video shows how to reconcile your bank account using QuickBooks.
The process of comparing your balance (known as the book balance) to the bank's records (bank balance) is important for the following reasons:
Helps Eliminate Errors
Reconciling your bank statements monthly confirms that all transactions have been entered, are accurate, and the financial statements are a true reflection of how the business is doing.
Reconciling each month will:
Discover data entry errors: Transposed numbers on paid checks or deposits received.
Ensure there are no missing transactions: Add them during the reconciliation process.
Identify uncleared transactions: As a rule, unreconciled items over 60 days old need to be researched and taken care of. This can be done by sorting by cleared status. Then research and take care by reissuing the check or determining if the transaction really occurred or is a duplicate. The quicker you manage the uncleared items, the easier they are to resolve.
Find ways to fix errors here.
NSF or Altered Checks
Fraud detection is a key reason for completing a bank reconciliation. You will be able to ascertain if any customer checks have bounced, or if any checks you issued were altered or even stolen and cashed without your knowledge. When there is an ongoing concern for fraudulent transactions, reconcile your bank account daily to detect quickly.
Auditors Like When Accounts Are Reconciled
When it comes time for the annual audit, auditors will always examine the company's ending bank reconciliation as part of their testing procedures, so this is yet another reason to complete a reconciliation.
Bank reconciliations make you profitable! Don't have the time? Outsourced bookkeeping could be the solution for you. Contact us today!