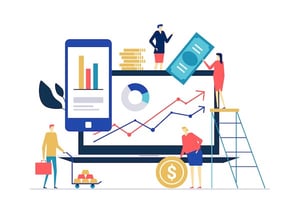 Routinely looking at the financial ratios of your small business will help you reach your goals. Looking at your balance sheet, profit and loss statement, and cash flow is one way to gauge how your business is doing. Reviewing financial ratios is equally important. Ratios are commonly used to make comparisons between different aspects of a company's performance and how it compares to other companies in the same industry.
Lenders often use financial ratios to determine the stability and health of your business. The balance sheet provides a portrait of what your business owns, or is owed (assets), and what it owes (liabilities). Bankers will often make financial ratios a part of business loan agreements. For instance, you may have to keep your equity above a certain percentage of your debt, or your current assets above a certain percentage of your current liabilities.
But ratios should not be evaluated only when visiting your banker. Ideally, you should review your ratios on a monthly basis to keep on top of changing trends in your company. Although there are different terms for different ratios, they fall into four basic categories.
1. Liquidity Ratios
Liquidity ratios provide a broad look at your financial health. They measure the amount of liquidity (cash and easily converted assets) that you have to cover your debts. Banks are very interested in these ratios should you need a loan. Types of liquidity ratios:
A comparatively low ratio can mean that your business might have difficulty meeting obligations and may not be able to take advantage of opportunities that require quick cash. You can improve this ratio by paying off liabilities.
A higher ratio may mean that your capital is being underutilized and could prompt you to invest more of your capital in projects that drive growth, such as innovation, product or service development, R&D, or marketing.
What constitutes a healthy ratio varies from industry to industry. For example, a shoe store will have goods that quickly lose value because of changing fashion trends. Still, these goods are easily liquidated and have high turnover. As a result, small amounts of money continuously come in and go out. Even in a worst-case scenario, liquidation is relatively simple.
On the other hand, an auto manufacturer has high-value, non-perishable assets that do not turn over quickly. The current ratio should be much higher to allow for coverage of short-term liabilities.
When cash is tight, chart your quick ratio to see the progress you are making. You will have a sense of accomplishment seeing the ratio improve as you make small changes.
2. Efficiency Ratios
Efficiency ratios give additional insight into areas of your business, such as collections, cash flow, and operational results.
3. Profitability Ratios
Profitability ratios are used to evaluate the financial viability of your business and are useful in comparing your business to others in your industry.
A cross-sectional analysis is a common tool for profitability ratios. This analysis compares the ratios of several companies from the same industry. For example, your business may have experienced a downturn in its net profit margin over the last two years. However, if your competitors have experienced a larger average downturn, your business is performing relatively well.
4. Leverage Ratios
Leverage ratios provide an indication of the long-term solvency of a company and to what extent you are using long-term debt to support business activities.
Interpreting Ratios
Ratios vary from industry to industry and over time. Interpreting ratios requires knowledge of your business and your industry. It's important to keep in mind that ratios are only one way to determine your financial performance. We can assist you in learning more about your financial health. Contact us to find out how.