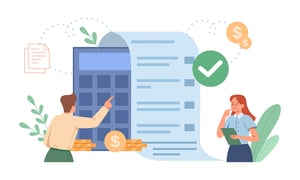 Need polished reports for your banker, directors, or investors? The Management Reports feature is a simple, yet powerful feature in QuickBooks Online (QBO).
The feature allows you to produce financial statements as needed and can be emailed or printed. In a few simple steps, you can customize a professional-looking package of reports, complete with:
Cover page
Table of contents
Preliminary pages
Reports
Closing notes/comments
Available Packages
There are two standard packages available. They are:
Basic Company Financials: In addition to the Cover Page, Table of Contents, and Closing Comments, this package includes a Profit and Loss Statement, Balance Sheet, and Statement of Cash Flows. You can add reports (up to 15 total) to customize your package.
Extended Company Financials: This set of reports includes all reports in the Basic Company Financials plus an A/R Aging report and A/P Aging report.
Making Reports
You can customize the ready-to-use report packages already in QBO easily. Make the reports represent your needs by choosing "Edit" under the "Action" column:

Once you are in the Edit function, you can begin customizing. Here you can:
Name your reports
Add a subtitle
Insert your company logo
Identify the reporting period
Insert or remove pages
Customize sections within the document (such as an executive summary)
By clicking on the pages on the left pane, you can modify and add reports (or remove reports).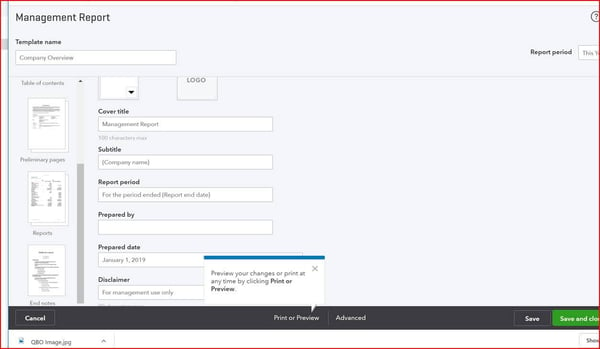 Once you have modified the report package, you can save the template to save time going forward. At this point, you can save and send it via .pdf or a .docx file.
Management Reports are one way to convey meaningful information about your small business and put your financial information in a professional format. There are several reports available in QuickBooks. Need help generating these reports? Contact us or visit our blog to read more QuickBooks reporting. We make QuickBooks work for you! We also can review your QuickBooks file and give you a diagnosis. Learn more below!