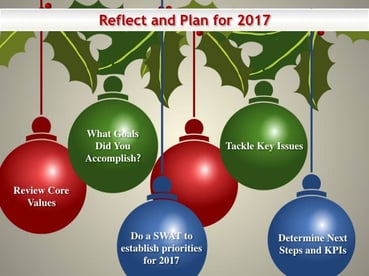 Happy Holidays to you and yours! As you allow yourself time to unplug and reflect may you find the closing of another year peaceful. A framework we used to plan for 2017 can be found in Traction by Gino Wickman:
Review your core values
What goals did you accomplish?
Do a SWAT to determine goals for 2017
Tackle Key Issues
Determine next steps and KPIs
We hope you find gratitude for all this year has taught you to carry on. Lastly, remember those that helped us get where we are today. We look forward to hearing about your continued success and happiness in 2017! I am Kathy Dise, and you can reach me at kathy@budgetease.biz.