Our clients are busy small, startup and non-profit business owners. They are driven to grow their business. They wear the marketing hat and coordinate the delivery of their product to the marketplace.
In a recent survey of our clients, their number one request was for BudgetEase to pay the company's bills online. Printing the check, preparing, then stuffing the envelope is not enough these days. In the age of electronic funds transfer, our clients want us to pay their bills online.
Beware!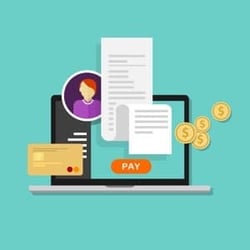 Yes, it would be great to have someone take care of your Accounts Payables. Most online bill paying services through a bank do not allow bills to be entered by a bookkeeper and then paid by the owner.
Should you add your bookkeeper as a signer on your bank accounts? NO! Of course not, yet our clients are requesting, actually begging us to enter and pay their bills online for them. Giving access to your bookkeeper to move funds could increase employee theft. Small companies are less able to absorb the loss from employee theft than larger organizations.
Solution
The best solution is separation of duties. We suggest using Bill.com. As your bookkeeper, we enter the bills for you on Bill.com. We will even attach a copy of the bill so you can look at the bill when you are paying it. You then go online to approve and pay the bills.


Approving bills only takes you minutes each week. Just select the boxes to pay and then click Pay. Every transaction on Bill.com syncs with your QuickBooks file.
Bill.com is a great way to save a busy business owner time while maintaining sound internal controls.
If you would like to discuss ways your bookkeeper can save you time using Bill.com, contact BudgetEase.