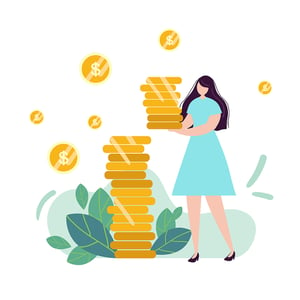 Step 1: Set up a Business Checking Account
You have a wonderful idea for a new business. You have tested your idea and it is going to work. You have even roughed out a budget and the idea is financially viable.
New business owners forget one crucial step – setting up a checking account for their business. Even if you do not yet have an Employer Identification Number (EIN) you can set up a separate account under your Social Security number.
This separation of personal and business is as important as the division of church and state! Some of our well established companies still commingle some personal expenses in their business checking account. Don't do it. Stop paying your accountant and/or bookkeeper to untangle the transactions. Start clean with two separate accounts and you will save yourself time and money – that's a promise.
Where should I open my bank account?
Sometimes new business owners are not sure where to open their account. Here are some factors to consider:
Location:

Will it be easy to do your banking? Are you traveling in the area regularly?

Current Bank:

Do you have a long relationship with a bank that may help you get better service?

Fees:

More and more banks are getting rid of their free checking. Find out what fees will be charged and shop around.

Other Services:

Does the bank offer the services listed below?
What services should I look for from my bank?
Don't handicap yourself by starting at a bank with limited services. Find a bank with the following services:
ATMs: Get an ATM card.

Using a teller to make deposits is old school.

Your start-up is cutting edge.
Small business lending: What bank in the area makes the most SBA loans? Someday you may need help. Be a customer of the bank that is ready to make that first loan experience easy.
Deposit via mobile phone availability: Most banks are starting to offer this time saving feature.
QuickBooks connection online: You are going to need (not want) to connect your Accounting Software – most likely QuickBooks - to your bank so that all you need to do is categorize all of your bank transactions.

Online bill pay: Look for a bank that will talk to your QuickBooks account and allow you to pay online. There is a small charge for this service but it is well worth it.
ACH (Automated Clearing House): Sometimes you will need to transfer funds quickly. ACH is the most economical way to transfer funds.

Credit Card: Credit cards are preferable over debit cards. Ask for one, even if you only have a small limit. That limit is easily raised if you use your card correctly. When cash is tight you will be glad to have the credit card.
Give your startup a solid start. Setting up your bank accounts correctly right from the start is easy to do and will save you time and money in the long run.