Being able to look at your numbers at a glance and know right away where you're doing well and what needs your attention is what helps businesses grow faster and more strategically.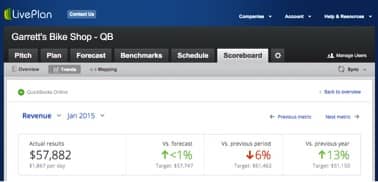 LivePlan is the best tool I have found for business planning, goal setting, financing assistance, competitive and milestone tracking, and management of your key financial indicators. LivePlan syncs seamlessly with your QuickBooks or Xero accounting software, which allows you to have a living plan that you can access from anywhere to grow your business.
I am totally addicted to this program. LivePlan lets me know at a glance how my business is doing compared to my forecast and prior periods. As a result, my business is on track because I can easily make decisions like should I add a person or increase my space.
LivePlan provides a cash forecast so I am not surprised by unexpected cash needs that could be detrimental to my company. I also get an AR aging number that alerts me to when I need to step up my collections efforts.
To find out if LivePlan would be a good fit for your company, contact me at kathy@budgetease.biz.