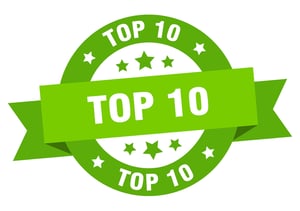 We share a lot of information with our readers because, frankly, there's a lot to talk about when it comes to finances and it's our favorite topic! Here we've compiled our most popular posts of 2019 so you can be sure you didn't miss them!
Need polished reports for your banker, directors, or investors? The Management Reports feature is a simple, yet powerful feature in QuickBooks Online (QBO). The feature allows you to produce financial statements as needed and can be emailed or printed. READ MORE
While you don't want to mismanage any of your accounting records, mismanaging a trust account (IOLTA – Interest on Lawyers Trust Account) can have terrible consequences. Keep in mind, trust funds are not your money, at least not yet. READ MORE
Cash flow management and reducing accounts receivable aging are important factors to small business owners. Sending an invoice isn't always enough to get paid. Sometimes your client needs a nudge in the form of a late fee to pay your invoice. READ MORE
Are you considering outsourced bookkeeping for your small business? In our video below, learn how much you can expect to pay if you hire an outsourced bookkeeper. You can also access Intuit's Billing Rate Survey to see what bookkeepers are charging. VIEW THE VIDEO
Capitalizing versus expensing purchases is a common question for small business owners. The way purchases are accounted for can sometimes make the difference between a year-end income statement that shows a profit and one that shows a loss. Having a Capitalization Policy will help your bookkeeper easily enter transactions into your QuickBooks or other financial software. READ MORE
Do you know where your business' money is going? If not, it's time to look further. A great way to find out is by using the cash flow statement, or statement of cash flows. Along with the balance sheet and income statement, the cash flow statement will identify where your revenue is coming from and where it's going. READ MORE
Before you know it, the holidays will be here, filling up the calendar with more to-dos and festivities. Don't put off the year-end planning details of bank reconciliations and estimated tax payments until the last minute. We advise all business owners to provide a clean version of your financial records to your accountant on or before November 15. Save yourself the stress and start the cleanup now! READ MORE
Most dentists use proprietary software to manage their practice. As you might imagine, there are countless dental-specific programs, the most popular being Dentrix, Ace, and Dovetail. The primary focus of these programs is to manage patient care and set appointments with very minimal, if any, focus on accounting. To keep track of transactions and provide financial information, dental practices really benefit from using an accounting program like QuickBooks. READ MORE
If you reflect on your bookkeeping processes, you will likely arrive at a few areas that need improvement. There are things you can do now to make bookkeeping easier. Things to consider are... READ MORE
Many small businesses are choosing to leave their QuickBooks Desktop (QBD) accounting software for the accessibility of QuickBooks Online (QBO). As a bookkeeper for a small business, I was part of a conversion recently. Below are some of the tips I can offer. READ MORE
We hope you enjoyed these and we look forward to sharing plenty of new information in 2020!